ABSTRACT
The primary objective of this paper is to evaluate how Vietnam has overcome the challenges confronting the tourism industry during the COVID 19 pandemic. Today, Vietnam is considered a premiere tourism destination and has a comparatively low COVID-19 death rate. COVID-19 has claimed over a million lives since early 2020 and has caused political, economic, social, and environmental paralysis. However, Vietnam's resilience, recovery from lockdowns, timely policy responses, and the cooperation of citizens and residents assisted the fight against this contagious disease. Secondary data from available government, newspaper, and academic sources are analysed in order to evaluate Vietnam's tourism industry's success at battling the challenges of COVID-19. Recommendations are proposed to strengthen the Ministry of Culture, Sports, and Tourism's coordination with other ministries in devising plans and programs to overcome future crises that are likely to negatively impact the tourism industry.
Keywords: COVID-19, Tourism industry, Vietnam.
INTRODUCTION

An unprecedented event in world history shook the globe in 2020. The Council on Foreign Relations described the COVID-19 pandemic crisis as "the major epidemic of the modern era" (2022). Since its inception in December 2019 in Wuhan, China, it has caused immense panic around the world, prompting the World Health Organization to record the health status of individual countries on a daily basis. The intensity of the spread of COVID-19 seemed unbearable in the first few months, especially in the Americas and India. Various researchers outline how the rapid spread of COVID-19 negatively impacted countries both economically and socially, partly because of national policies designed to curb travel and tourism (Bakar & Rosbi, 2020; Chang et al., 2020; Gössling et al., 2021; Jamal & Budke, 2020; Renaud, 2020; Yang et al., 2021). A UNWTO report claims that estimated losses in global exports reached US $80 billion and there was a reduction of 67 million international tourists in the first quarter of 2020 (2020).
According to the Vietnam Center for Disease Control (2020), the first positive case of COVID-19 in the country was identified on January 23, 2020. Extreme mitigation measures were then implemented by the government, including lockdowns, social distancing, quarantines, face masks, hand washing and sanitation, and isolation. Quang et al. (2020) highlighted the success of the tourism sector and discussed the strategies devised by government authorities and tourism companies to promote domestic tourism, assisting the sustainability of the industry when international tourists disappeared. Their study acknowledged the government and tourism sector's need to outline contingency plans and long-term strategies to lessen, if not prevent, future crises that threaten the country and industry.
Vietnam, which has a largely disciplined and law-abiding society, controlled and minimized the spread of COVID-19 superbly. With its population of approximately 96 million people, making it the 15th most populous country in the world, Vietnam gained a reputation as one of the most effective countries at countering COVID-19 (Nhan Dan, 2019). The country was one of the first to partially reopen its economy and lockdown on April 16, 2020, when COVID-19 spread appeared to be zero. In this study, we dwell on the mechanisms and strategies that the government and country in general cooperated with the tourism industry in particular to overcome the challenges brought by the COVID-19 crisis. This article begins by identifying challenges related to the crisis, then evaluates the crisis' impact at the macro and micro-level. Finally, a proposal of strategies and viable recommendations are provided to potentially reduce the long-term impact of the pandemic and improve the tourism sector and country overall.
MAJOR CHALLENGES FACED IN THE COVID-19 CRISIS

Like other countries worldwide, Vietnam experienced difficulties dealing with COVID-19, even though authorities acted early and proactively. While the impact was less than most other countries, all sectors were hurt economically, with the most evident being the aviation and tourism sectors. Duong notes that Vietnam Airlines, the country's lone national carrier, reported a loss of US $1.3 billion due to airport closures (2020). In addition, the tourism industry posted an expected loss of between US $5.9 and US $7 billion. COVID-19 has had a worse impact on global tourism than the SARS outbreak that occurred over 17 years ago (Nhan Dan, 2020). For instance, a 30 percent decline of inbound Chinese tourists to Vietnam is attributed to COVID-19. Many neighboring countries have enforced stringent measures such as flight cancelations and route closures, postponement of tourism and related events, festivals, and any form of crowded gatherings. The impact of these measures practically paralyzed the tourism sector in Vietnam, causing losses of tens of trillions of Vietnam dong (Nhan Dan, 2020).
Travel agencies and tour operators had to dig deep to curb their losses during the pandemic. Furthermore, tour-related activities and the hotel industry suffered. In Hanoi, more than 16,000 guests were deprived of hotel use, which equals 13,000 canceled hotel rooms, and from February 3, 2020, the country lost over 7,600 inbound international visitors and 7,100 outbound tourists due to canceled tours, with the transportation industry declining by 30-50 percent, and 30-50 percent less people than usual visited Hanoi (Business News Headlines, 2020). In the same month tourism activity in Vietnam's popular tourist sites in Quang Ninh reduced by 90 percent and guests to Ha Long Bay dropped from an average of 12,000 per day to 3,000 per day. Hotels in Lao Cai experienced a 30-50 percent decrease in occupancy due to booking cancelations. Foreign tourists visiting Danang City reduced by nearly 70 percent. According to the General Director of the Viet Tourism Company, Tran Van Long, these businesses mainly suffered from tour event cancelations and the reclamation of deposits (Nhan Dan, 2020).
The government's imposition of social distancing measures nationwide in March 2020 curbed the wide spread of the virus but resulted in many business closures including but not limited to shops, cinemas, restaurants, and entertainment venues. At the time it was thought that 10.3 million workers could become jobless (Duong, 2020). Some experienced salary cuts. The education sector also suffered with the closure of schools, colleges, and universities covering elementary, secondary, and tertiary levels. Teachers and students resorted to online teaching.
Equal to the economic and political impacts of the crisis are the social and cultural impacts, with social distancing measures forcing sports centers, theaters, religious institutions, and all forms of gatherings into total lockdown. The limitations on movement hampered economic and tourism activities. The freezing of tourism activities adversely affected many short and medium-term sectors (Nhan Dan, 2020). The sudden adoption of online work saw employees face infrastructural challenges due to the sudden and unpredicted internet demand, especially in rural and remote areas. With 63.6 million online users and an increase of 20 percent in online shopping in March 2020 (Duong, 2020), the rise in demand for e-commerce and related activities put pressure on the government to quickly respond to the crisis and caused short and long-term implications for sustainability.
The healthcare system also experienced major challenges as both private and government hospitals utilized all their resources to combat COVID-19. Local healthcare systems felt increasing pressure to be vigilant and responsive to citizens' and residents' needs, as the experience of Bach Mai Hospital, one of the largest tertiary hospitals in Vietnam, demonstrates. Despite 14 days of lockdown, it provided medical services to 1.75 million patients. It recognized that as service interruptions increase, the healthcare system will be severely affected, especially local healthcare (Duong, 2020).
METHODOLOGY

This article aims to discuss the challenges faced by the tourism industry and the key impacts of COVID-19 in Vietnam's tourism in the sector and the country in general, based on analysis of secondary data gathered from sources such as government ministries, newspapers, the World Travel and Tourism Council (WTTC), tourism organizations in Vietnam, and others. Analysis includes determining how the tourism industry and concerned government agencies proactively responded to the COVID-19 pandemic to ensure the sustainability of the industry as well as normalizing its operations.
RESULTS AND DISCUSSION

This section discusses Vietnam's international arrivals and hotel, restaurant, and travel revenues for the first quarter of 2018-2020, revenue reduction in several provinces, strategies to reduce COVID-19 cases, and the tourism industry's response to the COVID-19 crisis. Four major impacts of COVID-19 hit Vietnam: decrease in the number of tourists, decrease in tourism revenue, increase in unemployment rates, and bankruptcy threatened many tourist businesses (Quang et al., 2020). The decrease in the number of tourists was significant, as shown in figure 1. The trimester of 2020 recorded the lowest number of international arrivals with 3,686,779 compared to 2019 (with 4,500,114) and 2018 (with 4,205,401). The decline was most drastic in 2020 with 36.2 percent from January to February and a further decline of 63.8 percent from February to March, 2020, when compared to the same months in 2019 (5.7-11.2 percent) and 2018 (0.1-6.2 percent). These figures clearly show that the pandemic caused a major decline in international arrivals in the first quarter of 2020.
Figure 1
Comparison of Q1 international arrivals to Vietnam from 2018 to 2020, based on VNAT (2020) and adapted from Quang et al. (2020).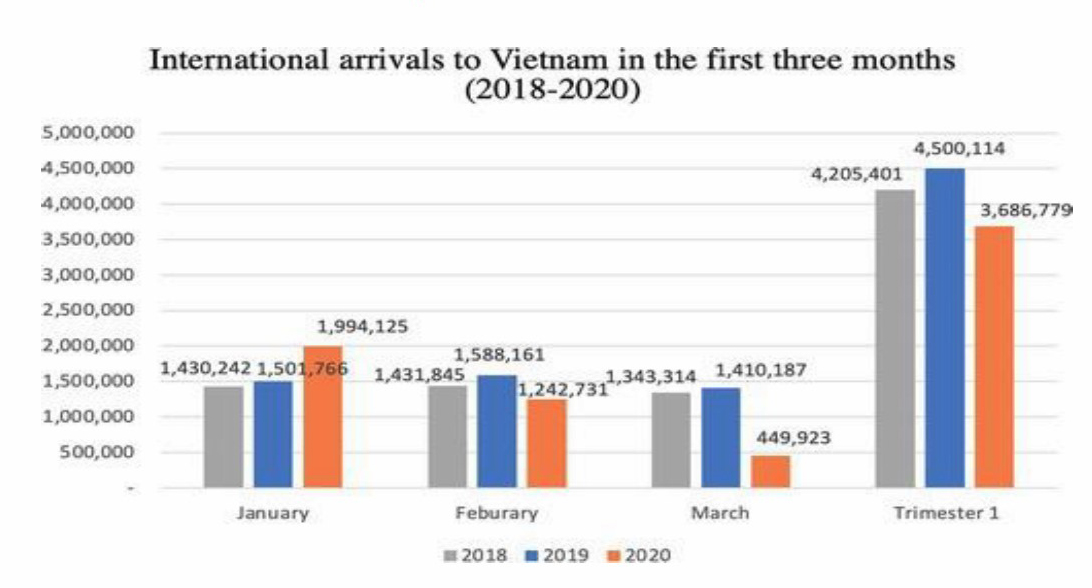 Before the crisis, the tourism industry posted an average annual growth rate of 22 percent from 2016 to 2019 (Ministry of Culture, Sports and Tourism, 2020). International tourists in 2018 accounted for 18 million, or a 16 percent increase compared to 2019, and 85 million domestic tourists, or a rise of 6 percent from 2018. This data has catapulted the country into one of the top ten fastest-growing national tourism industries worldwide (Du lịch Việt Nam, 2020). In February 2020 international tourist arrivals dropped by 22 percent with a further 68 percent decrease in March. Ha's study highlighted that low tourist traffic from South Korea and China caused the decline, with 91.4 percent and 91.5 percent respectively (2020). The Vietnam National Administration of Tourism (VNAT) confirmed that a decrease in tourism in major markets from 2019 to 2020 included decreases from China (-31.9 percent), South Korea (-26.1 percent), Japan (-14.1 percent), Taiwan (-7.2 percent), and Malaysia, with -19.1 percent (VNAT, 2020). This changed the country's overall economic situation. According to VNAT's data, a significant drop in tourism revenue was experienced in the first quarter of 2020 with an 18 percent decrease compared to the same period in 2019 (2020). The tourism industry felt an overall domino effect and related activities such as hotels, accommodation, and catering services declined by 8.3 billion Vietnam dong in the first five months of 2020 (General Statistics Office, 2020a).
Figure 2
Decline in Q1 revenues of the hotel, restaurant and travel sectors over 2018-2020, adapted from Quang et al. (2020).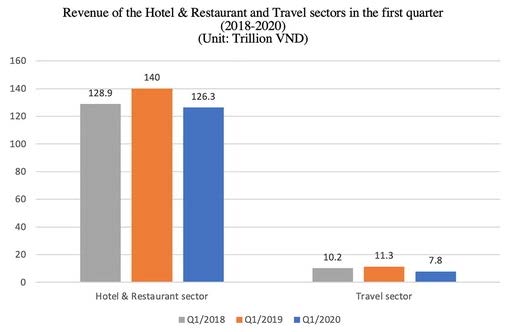 By analyzing figure 2, we see that the revenues from the hotel and restaurant sector increased by 8.6 percent in 2019 but decreased by 9.8 percent in 2020. However, comparing the hotel and restaurant sector in 2018 and 2020, a slight revenue decrease of two percent was observed, although with 12 percent increase in international arrivals, as these tourists were affected by lockdowns and COVID-19 government mitigation measures. Similarly, the travel sector also experienced an increase in revenues in 2019 by 10.8 percent but a drastic decrease in 2020 by 31 percent. This sharp decline is further supported by data from Vietnam's General Statistics Office, which shows a decline in revenues in the accommodation and food services by 25.8 percent, and in travel 54.1 percent, during the first five months of 2020 (2020b). The same occurred at other major destinations in Vietnam, especially in the province of Khanh Hoa, where the highest drop in revenues was observed. When joined together, the average decline of revenues in the hotel and restaurant sector from the six key cities shown in figure 3 is 44.5 percent, while in the travel sector it accounted for 55.2 percent. These figures are alarming considering that the decline accounts for almost half the percentage beyond the average decline of 10-11 percent (General Statistics Office, 2020b).
Figure 3
The decline in tourism revenues in several provinces of Vietnam in the first 5 months of 2020, adapted from Quang et al. (2020).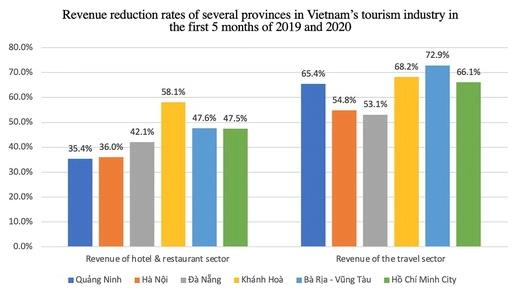 Increasing unemployment was inevitable amid the COVID-19 pandemic. The WTTC notes that the tourism industry worldwide employed 320 million people before the pandemic crisis, when approximately 50 million jobs were put at risk (Altschuler, 2020). Thao revealed that in Vietnam 66 percent of the businesses related to tourism reduced their workforce by half, while 20 percent of tourism businesses terminated staff at the onset of the pandemic (2020). Trong Quynh postulated that during the COVID-19 crisis about 98 percent of the tourism industry in the country was affected by job losses (2020), accounting for 150,000 in Ho Chi Minh City, approximately 35,000 in Danang, and 17,100 in Khanh Hoa (Gia Cu, 2020; Thai Hai, 2020; Xuan Thanh, 2020). According to the Tourist Information Center (2020), this is just a small piece of the larger pandemic impact, with contractual employees and tour guides comprising another 27,683 in December 2019.
The crisis struck tourism businesses during the Lunar New Year, a peak tourism season. This meant loss of revenues for many businesses, whether tourism-related or not, causing some to face hard decisions about whether to close. According to the National Business Registration, approximately 32.2 percent of tourism businesses experienced temporary closures (2020). Most small and medium-scale travel businesses were harmed, especially in Ho Chi Minh City, which had a 90 percent temporary suspension of operations in April 2020 (Ha Mai, 2020).
STRATEGIES AND MEASURES TO MINIMIZE THE NEGATIVE CONSEQUENCES OF COVID-19

Curtailing and controlling the COVID-19 crisis is crucial to reviving the tourism industry. This depends on the government and its counterparts. One of the points highlighted by Nguyen Trung Khanh, general director of VNAT, is to promote communication on the COVID-19 situation in the country to gradually restore international tourism activities (VNAT, 2021). Branding Vietnam as a safe, reliable destination inviting international and domestic tourism must be sustained. Khanh emphasized the deployment of mobile applications providing quick access to COVID-19 information, especially information about areas with positive cases and where patients can quarantine. The government, with the cooperation of the tourism industry and other participants, should promote digital marketing events, maximize the use of social networks, online activities, exhibitions, and other activities that center on promoting Vietnam's culture.
Aside from fostering digital activities, webinars on the latest tourism consumption trends, tourism products, and potential market segments need to be conducted as a way of reaching out to key tourism markets. Khanh also emphasized the adoption of market-based tourism promotion based on market demands. Restructuring the tourism industry in Vietnam should include the application of the latest technology catering to tourism development, considering that the industry is vulnerable to external factors brought on by the COVID-19 crisis. Through digitization revitalization can occur, in terms of e-advertising and promotions, product development, and better tourism packages, with the cooperation of the airline industry and tourism providers. Khanh also stressed that a long-term sustainable development strategy is needed to overcome the short and long-term impacts of the pandemic and future related scenarios. Tourism businesses should be prepared to take advantage of recent market trends and design products and services that cater to tourists' needs, which may include health tourism, adventure travel, ecotourism, luxury, and resort tourism.
THE TOURISM SECTOR'S RESPONSE TO COVID-19

Striking a balance between international and domestic tourism has become crucial for the planning horizon of the tourism sector and proactive action plans are vital for its recovery. In line with this, The Vietnam Tourism Association (VITA) conducted an online conference on limiting the spread of COVID-19 in cooperation with the Department of Culture and local sports and tourism associations, tourism departments and travel agencies. Led by Vu The Binh, the Vice President of VITA, the most urgent issues amid the pandemic were discussed, including measures to recover tourism, joint efforts by enterprises, localities, and agencies throughout the country in handling the crisis, how to diversify the market, restructure, seek new entrants, intensify training and improvement of tour guides, and develop attractive tours (Nhan Dan, 2020).
To mitigate the impact of the decreased international tourist arrivals, one of the prominent members of the Da Nang Tourism Association suggested domestic tourism operators and agencies employ domestic promotion strategies that encompass reduced transportation fares, the imposition of mandatory travel insurance, and reduced rates on accommodations and tourism destinations. The VITA also supported the idea that promotion strategies and programs for domestic tourism should be strengthened. The General Director of the Hanoi Redtours Company, Mr. Hoan, exclaimed that tourism companies should join together to control the pandemic by exploiting markets, initiating a speedy recovery, and supporting the government in promoting tourism through the COVID-19 pandemic. Tourism experts pointed to overcoming difficulties through retaining employees, increasing their activities with professional enhancement and training, infrastructure upgrades, and management innovations considering the utilization of technology.
VITA Vice President Binh also emphasized the importance of coordination between tourism and other relevant agencies in proposing favorable policies that support the industry with reduction and or exemptions of VAT, land taxes, utility bills, and other taxes as applicable. He added that tMeanwhile, VNAT initiated a workshop/conference called "The tourism sector copes with an acute respiratory infection caused by a new strain of Coronavirus", to lay out possible solutions to the crisis, which included tourism communication and promotion, implementing immediate and long-term and sustainable measures, and focusing on neighboring markets such as Taiwan, Japan, South Korea, China, and other Association of Southeast Asian Nation member countries. Then, exploring other potential markets like India while at the same time pursuing attraction schemes for Europe and the North American region.
Ribeiro acknowledged the government's quick response and effective handling and controlling of the crisis but expressed doubts about the sustainability of the measures and actions if the crisis continues in the long run (2021). Based on his findings, he recommended measures to further alleviate the negative consequences of the pandemic, including:
Strong coordination between tourism companies and concerned government ministries in ascertaining the entire operation of the sector;
Provision of tax rebates, retention of employees to re-enter the workforce in cases of temporary lay-offs;
Diversification of tourism for inbound tourists by adding more markets;
Benchmark with countries who have experienced major disasters such as Bali in Indonesia, United States, etc.;
Launch soft marketing campaigns using online platforms to attract tourists.
PROACTIVE RESPONSE OF THE MINISTRY OF CULTURE, SPORTS AND TOURISM, AND THE MINISTRY OF HEALTH

The resiliency of the Ministry of Culture, Sports and Tourism, and other government agencies has paved the way for the continuity of tourism amid the COVID-19 pandemic. On January 8, 2021, video conferences were conducted in three key locations of Hanoi, Da Nang, and Ho Chi Minh City with Deputy Prime Minister Vu Duc Dam to highlight the major accomplishments by the tourism sector in slowing down the pandemic, natural disasters, and advancing humanitarian values. He urged the sector to boost culture, sports, and tourism promotion activities and accelerate the application of information technology advances across all management areas in 2021 (Nhan Dan, 2021, p. 1). The Ministry also laid recovery policies and synchronized the implementation of domestic tourism with a resounding plan to welcome international tourists arrivals again, thus, achieving the target of 80 million domestic visitors and 337 trillion Vietnam dong (US $14.57 billion) in tourism revenues.
Remarkable efforts and successful initiatives were demonstrated by the Ministry of Health and local health departments in preventing the further spread of COVID-19. Tighter measures were implemented during the Lunar New Year on foreign entries. The Ministry issued circulars to local health departments on the supervision of policies and procedures on entries of foreigners and inbound visitors, quarantine procedures, awareness programs for medical workers on disease prevention and control, assignment of health personnel, etc. Coordination with district and commune health units was encouraged along with police and local authorities in intensifying quarantine procedures, whether at home or in civil facilities. The Ministry partnered with the media to increase awareness of the government mitigation measures such as message/information, face masks, disinfection, social distancing, and health declarations (VNAT, 2021).
CONCLUSION AND RECOMMENDATIONS

Vietnam's early decisions countered the spread of COVID-19 and mitigated its impact when compared to many other countries. Ministries and government agencies made joint efforts with tourism businesses and citizens in following protocols such as quarantine procedures, lockdowns, social distancing, and school closures. This resulted in economic downturns in all sectors, salary cuts on employees and business shutdowns. Four major impacts occurred: a decrease in the number of tourists, decrease in tourism revenue, increase in unemployment rates, and tourism businesses were faced with bankruptcy.
Still, Vietnam gained a reputation as a pioneer in controlling the spread of the disease, with fewer infected patients, more recoveries, and very few fatalities when compared to other countries. This is attributed to the effective strategies and measures to mitigate the negative consequences of COVID-19 by the concerned government organs, the collaborative efforts and positive responses of the tourism sector, and the proactive responses from the Ministry of Culture, Sport, and Tourism and the Ministry of Health and its counterparts. Furthermore, the ministries' partnerships with the media to increase public awareness of mitigation measures such as social distancing also helped control the spread.
The sustainability of these initiatives for future related disasters or crises is still unproven. Therefore, the Ministry of Culture, Sports, and Tourism must strengthen its coordination with other ministries in devising plans and programs to overcome future crises that may negatively impact the tourism industry. Close coordination and cooperation between travel operators, travel agencies, hotels, and restaurants should be sustained to ensure unity and the smooth running of the tourism sector for the long term.
REFERENCES

Altschuler, W. (2020, May 1). How to help the travel and tourism industry during the coronavirus crisis. Forbes. https://www.forbes.com/sites/wendy altschuler/2020/03/17/how-to-help-the-travel-and-tourism-industry-during-the-coronavirus-crisis/
Bakar, N. A. & Rosbi, S. (2020). Effect of coronavirus disease (COVID-19) on the tourism industry. International Journal of Advanced Engineering Research and Science, 7 (4), 189–193. https://doi.org/10.22161/ijaers.74.23
Business News Headlines Feb. 12. (2020, February 12). Talk Vietnam. https://www.talkvietnam.com/2020/02/business-news-headlines-feb-12/amp/
Chang, C. L., McAleer, M., & Ramos, V. A. (2020). Charter for Sustainable Tourism after COVID-19. Sustainability, 12(9), 36-71. https://doi.org/10.3390/su12093671
Council on Foreign Relations. (2022). Major Epidemics of the Modern Era. https://www.cfr.org/timeline/major-epidemics-modern-era
Du lịch Việt Nam tăng trưởng "thần kỳ" trong năm 2019 [Vietnam's tourism grew "miraculously" in 2019]. (2020, April 19). Travelmag.
Duong, M. C. (2020, June 9). The impacts of COVID-19 on Vietnam and ways to move forward. East Asia Forum. https://www.eastasiaforum.org/2020/06/09/ the-impacts-of-covid-19-on-vietnam-and-ways-to-move-forward/
Gia Cu. (2020, April 25. TP.Hồ Chí Minh: Gần 150 ngàn lao động du lịch bị ảnh hưởng bởi dịch Covid-19 [Ho Chi Minh City: Nearly 150,000 tourism workers were affected by Covid-19]. Social Newsletter of Vietnam Financial Times.
General Statistics Office. (2020a). Báo cáo Tình hình kinh tế xã hội 5 tháng đầu năm 2020 [Socio-Economic Situation Report for the first 5 months of 2020]. https://www.gso.gov.vn/default.aspx?tabid=621&ItemID=19629
General Statistics Office. (2020b). Socio-economic situation in the first quarter of 2020. https://www.gso.gov.vn/default.aspx?tabid=621&ItemID=19558
Gössling, S., Scott, D., & Hall, C. M. (2021). Pandemics, tourism and global change: a rapid assessment of COVID-19. Journal of Sustainable Tourism, 29(1), 1-20. https://doi.org/10.1080/09669582.2020.1758708
Ha, H. (2020, April 9). Du lịch "đóng băng", mục tiêu năm 2020 khó thành [Tourism "freezing", the goal of 2020 is difficult to achieve]. Travel Newsletter of the Vietnam Investment Review. https://baodautu.vn/du-lich-dong-bang-muc-tieu-nam-2020-kho-thanh-d119659.html
Ha Mai. (2020, April 13). 90% doanh nghiệp du lịch tại TP.HCM đã ngưng hoạt động [90% of tourism businesses in Ho Chi Minh City have ceased operations]. Financial-Business Newsletter of Thanh Nien Newspaper.
Jamal, T. & Budke, C. (2020). Tourism in a world with pandemics: Local-global responsibility and action. Journal of Tourism Futures, 6 (2), 181–188. https://doi. org/10.1108/JTF-02-2020-0014
Ministry of Culture, Sports and Tourism (2020, April 9). Official Letter No. 1399/BVHTTDL-TCDL: Proposing additional solutions to remove difficulties for the tourism industry affected by COVID-19 epidemic https://luatvietnam.vn/chinh-sach/cong-van-1399-bvhttdl-tcdl-de-xuat-bo-sung-giai-phap-thao-go-kho-khan-cho-nganh-du-lich-182469-d6.html
National Business Registration. (2020). Tình hình đăng ký kinh doanh tháng 3 và quý 1 năm 2020 [Business registration situation in March and the first quater of 2020]. Ministry of Planning and Investment. https://dangkykinhdoanh.gov.vn/vn/tin-tuc/597/5076/tinh-hinh-dang-ky-doanh-nghiep-thang-3-va-quy-i-nam-2020.aspx
Nhan Dan. (2019). Vietnam's population reaches over 96.2 million, ranking 15th in the world: 2019 census. https://en.nhandan.org.vn/society/item/7680202-vietnam%E2%80%99s-population-reaches-over-96-2-million-ranking-15th-in-the-world-2019-census
Nhan Dan. (2020). Vietnam's tourism sector proactively copes with the novel coronavirus epidemic. https://en.nhandan.org.vn/about_us.html
Nhan Dan. (2021). Ministry of Culture, Sports and Tourism launches tasks for 2021. https://en.nhandan.org.vn/politics/item/9479602-ministry-of-culture-sports-and-tourism-launches-tasks-for-2021.html
Quang, T. D., Tran, T. C., Tran, V. H., Nguyen, T. T., & Nguyen, T. T. (2020). Is Vietnam ready to welcome tourists back? Assessing COVID-19's economic impact and the Vietnamese tourism industry's response to the pandemic. Current Issues in Tourism, 25(1), 115-133. https://doi.org/10.1080/13683500.2 020.1860916
Quynh, T. (2020, April 8). Chính phủ báo cáo Uỷ ban thường vụ Quốc hội về các biện pháp hỗ trợ người dân gặp khó khăn do đại dịch COVID-19 [Government reports to the Standing Committee of the National Assembly on measures to support people facing difficulties due to COVID-19]. Newsletter of the Vietnam National Assembly. http://quochoi.vn/tintuc/Pages/tin-hoat-ong-cua-quoc-hoi.aspx?ItemID=44701
Renaud, L. (2020). Reconsidering global mobility – Distancing from mass cruise tourism in the aftermath of COVID-19. Tourism Geographies, 22 (3), 679–689. https://doi.org/10.1080/14616688.2020.1762116
Ribeiro, N. F. (2021). A bright future for tourism in Vietnam after COVID-19. https://www.rmit.edu.vn/news/all-news/2020/apr/a-bright-future-for-tourism-in-vietnam-after-covid-19
Thai Hai. (2020). Lao động ngành Du lịch vượt khó [Tourism workers overcome difficulties]. Economic Newsletter of Government Inspectorate Newspaper.
Thao, H. (2020). Kích cầu du lịch nội địa trong mùa dịch Covid-19 [Stimulate domestic tourism during the Covid-19 pandemic season]. Economic Newsletter of the Vietnam Communist Party Newspaper. http://dangcongsan.vn/kinh-te/kich-cau-du-lich-noi-dia-trong-mua-dich-covid-19-549009.html
Tourist Information Center. (2020, July 8). Travel activities are increasingly active with the growth of the business system [Hoạt động lữ hành ngày càng sôi động với sự lớn mạnh của hệ thống doanh nghiệp]. Vietnam National Administration of Tourism. http://www.vietnamtourism.gov.vn/index.php/items/32531
UNWTO. (2020). Impact assessment of the COVID-19 outbreak on international tourism. https://www.unwto.org/impact-assessment-of-the-covid-19-outbreak-on-international-tourism
Vietnam Center for Disease Control. (2020). COVID-19 Pandemic Situation in Vietnam. https://ncov.vncdc.gov.vn/pages/viet-nam-1.html
VNAT. (2020). Khách quốc tế đến Việt Nam tháng 12 và cả nă. VNAT.
VNAT. (2021, December 1). Tighter COVID-19 prevention measures needed during Tết holiday. https://vietnamtourism.gov.vn/english/index.php/items/15520
Xuan Thanh. (2020, April 4). Du lịch chạm đáy'' vì Covid-19 [Tourism hits rock bottom because of Covid-19]. Travel Newsletter of the Khanh Hoa Electronic Newspaper. https://baokhanhhoa.vn/du-lich/202004/du-lich-cham-day-vi-covid
Yang, Y., Altschuler, B., Liang, Z., & Li, X. R. (2021). Monitoring the global COVID-19 impact on tourism: The COVID19 tourism index. Annals of Tourism Research, 90, 103120. https://doi.org/10.1016/j.annals.2020.103120.