RESULTS
The morphometry and GSI values of eels collected from Segara Anakan are shown in Table 1. Eel samples with the highest value of total length, total weight, gonad weight, and GSI is G. Among the 14 samples obtained from Segara Anakan, we identified yellow females (n=3), silver female (n=4), undifferentiated (n=3), and silver male (n=4).
Table 1. Morphometry, Gonado-Somatic Index (GSI), Eye Index (EI), and Pectoral Fin Index (PFI) of male, female, and undifferentiated A. bicolor bicolor.
Sample

Total length (cm)

Total weight

(g)

Gonad weight (g)

GSI

EI

PFI

Stage and sex

A

33.00

45.00

0.11

0.24

2.72

2.91

yellow female

B

39.50

80.00

0.28

0.35

3.32

3.02

yellow female

C

55.00

220.00

1.63

0.74

5.06

3.83

yellow female

D

60.00

370.00

4.82

1.3

12.23

5.30

silver female

E

61.00

380.00

4.48

1.18

6.85

5.98

silver female

F

61.00

330.00

5.24

1.59

13.45

5.08

silver female

G

78.50

1,200.00

32.08

2.67

10.21

4.83

silver female

H

27.00

20.00

0.05

0.25

1.46

2.7

undifferentiated

I

38.00

90.00

0.68

0.76

2.76

3.08

undifferentiated

J

40.50

70.00

0.82

1.17

3.93

3.22

undifferentiated

K

41.90

131.76

2.13

1.62

10.49

5.07

silver male

L

44.80

143.50

1.22

0.85

12.85

5.21

silver male

M

46.70

182.15

1.73

0.95

8.74

5.06

silver male

N

46.80

169.64

1.37

0.81

12.52

5.81

silver male
Based on the simple correlation test (Bivariate correlation), body length, body weight, and gonad weight showed significant correlation with GSI values (Table 2).
Table 2. Pearson correlation values of Body Weight (BW), Gonad Weight (GW), Total Length (TL), and Gonado-Somatic Index (GSI) of eel samples.
| | | | | |
| --- | --- | --- | --- | --- |
| | TL | BW | GW | GSI |
| TL | 1 | 0.88 | 0.77 | 0.82 |
| BW | 0.88 | 1 | 0.98 | 0.84 |
| GW | 0.77 | 0.98 | 1 | 0.82 |
| GSI | 0.82 | 0.84 | 0.82 | 1 |
The histological structure of A. bicolor bicolor gonads was shown in Figure 2. Figure 2H–J show undifferentiated gonads of Primordial Germ Cells (PGC) which could not be distinguished as male or female gonad cells. Undifferentiated gonads were found in eels with the following measurements: GSI values of 0.25–1.17, body weight of 20–90 g, and body lengths of 27–40.5 cm. Meanwhile, Figure 2A–G displays gonads that underwent differentiation into female gonads of different stages.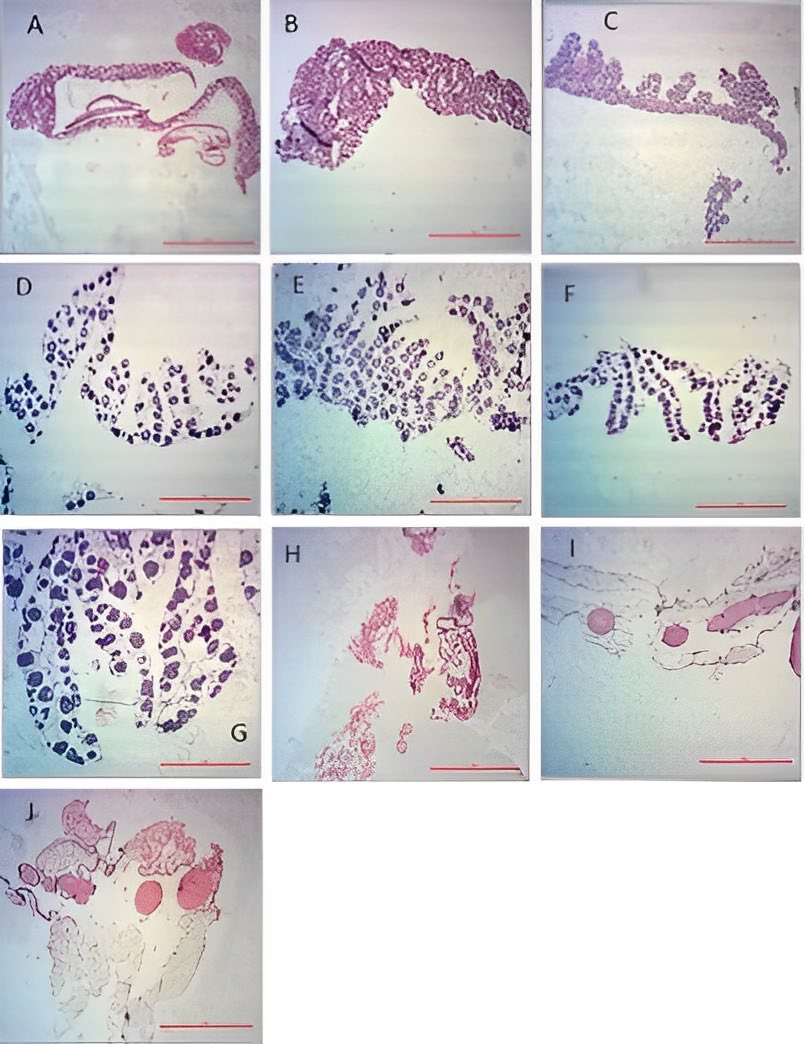 Figure 2. Photomicrographs sections of ovaries of female (A-G) and undifferentiated (H-J) A. bicolor bicolor samples. (Hematoxylin-Eosin staining; 40x magnification; 100 µm scale).
Development of female ovaries of A. bicolor bicolor are indicated by oogonia, primary oocyte, cortical alveoli, vitellogenic, and mid-vitellogenic as shown in Figure 3. In the yellow eels, the gonads were dominated by primary oocytes with few visible oogonia. Oocytes with chromatin nucleolus or perinuclear surrounded with basophilic cytoplasm, few oil droplets, and nucleolus were observed. In the silver eel, vitellogenic oocytes contained a relatively higher number of oil droplets in cytoplasm. Although the cytoplasm is strongly basophilic, it contains peripheral yolk granules accumulating in the peripheral region of oocytes, and smaller nucleolus located in the peripheral nucleus. Mid-vitellogenic and oocytes containing peripheral yolk granules and central yolk platelets were noticeable. Furthermore, in this stage, the nucleus size was relatively bigger with disappearing nucleolus, increased number and size of oil droplets and cortical alveoli, and thickening chorion.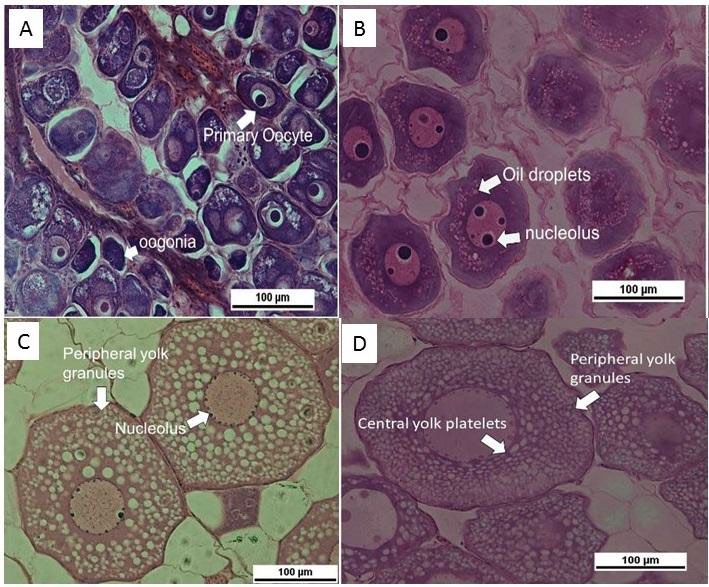 Figure 3. Oocyte development of female A. bicolor bicolor (Hematoxylin-eosin staining, 400x magnification, 100µm scale). A. Oogonia and primary oocyte; B. Cortical alveoli; C. vitellogenic; D. Mid-vitellogenic.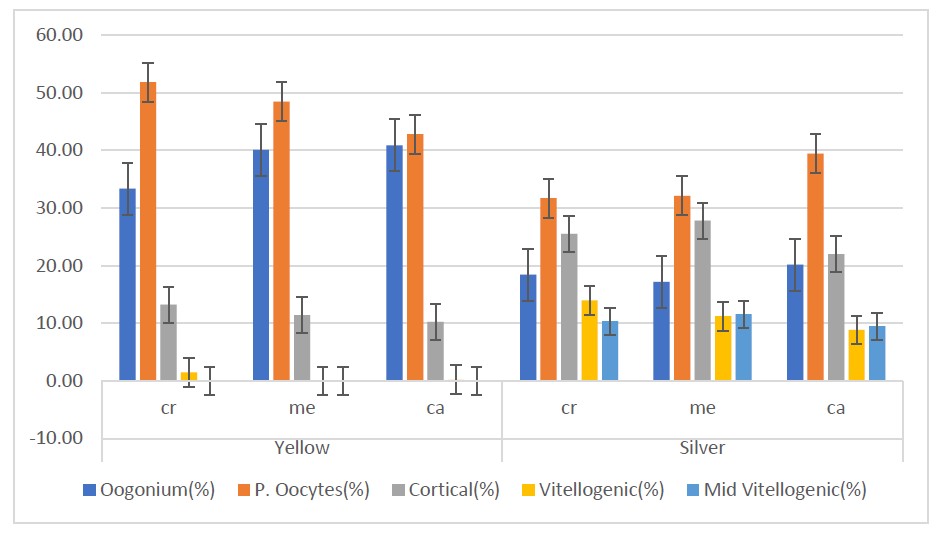 Figure 4. Percentage of oocytes development in yellow and silver eel samples. Cr: cranial; Me: median; Ca: caudal.
As shown in Figure 4, in both yellow and silver eels, the results of the Kruskal Wallis test indicate that the distribution of oocytes in the cranial, medial, and caudal regions are not significantly different. However, there is a significant difference in the distribution of vitellogenic stage between the two stages. The Mann Whitney U-test revealed that the caudal gonad of silver eels had a significantly higher number of vitellogenic oocytes compared to the medial and caudal gonads of yellow eels. Additionally, the number of vitellogenic oocytes in the cranial part of silver eels was significantly higher than that of yellow eels.
The development of oocytes in the cranial, caudal, and medial tends to be homogeneous in the same stage. These results suggest that most of the oocytes in the cranial, medial, and caudal gonads were in the same phase of development. The results of the analysis for gonadal development showed that the number of vitellogenic significantly increased during yellow changes to silver eel.
Male eels can be identified by the testicles that were lobed and oval surrounded by adipose tissue (Figure 5). The testicles were covered and protected by thick dense connective tissue on the outside (capsule) and were composed of spermatogenic cells consisting of spermatogonia with the characteristics of having a bright cytoplasm, large and round cell nuclei, and round nucleoli. The spermatogonia cells surround the basal portion of the seminiferous tubules. The cytoplasm of the spermatogenic cells and the Sertoli cells was shown in red. Meanwhile, the interstitial tissue of the testes, located between the seminiferous tubules, consists of connective tissue, Leydig cells, smooth muscle, and blood vessels. Connective tissue consists of blue-stained collagen fibers and red-stained smooth muscle/blood vessels, both of which could not be distinguished on histological preparations. The Leydig cells, located between the interstitial connective tissue fibers, were highlighted in red. Additionally, spermatozoa with flagella were identified in the lumen of seminiferous tubule.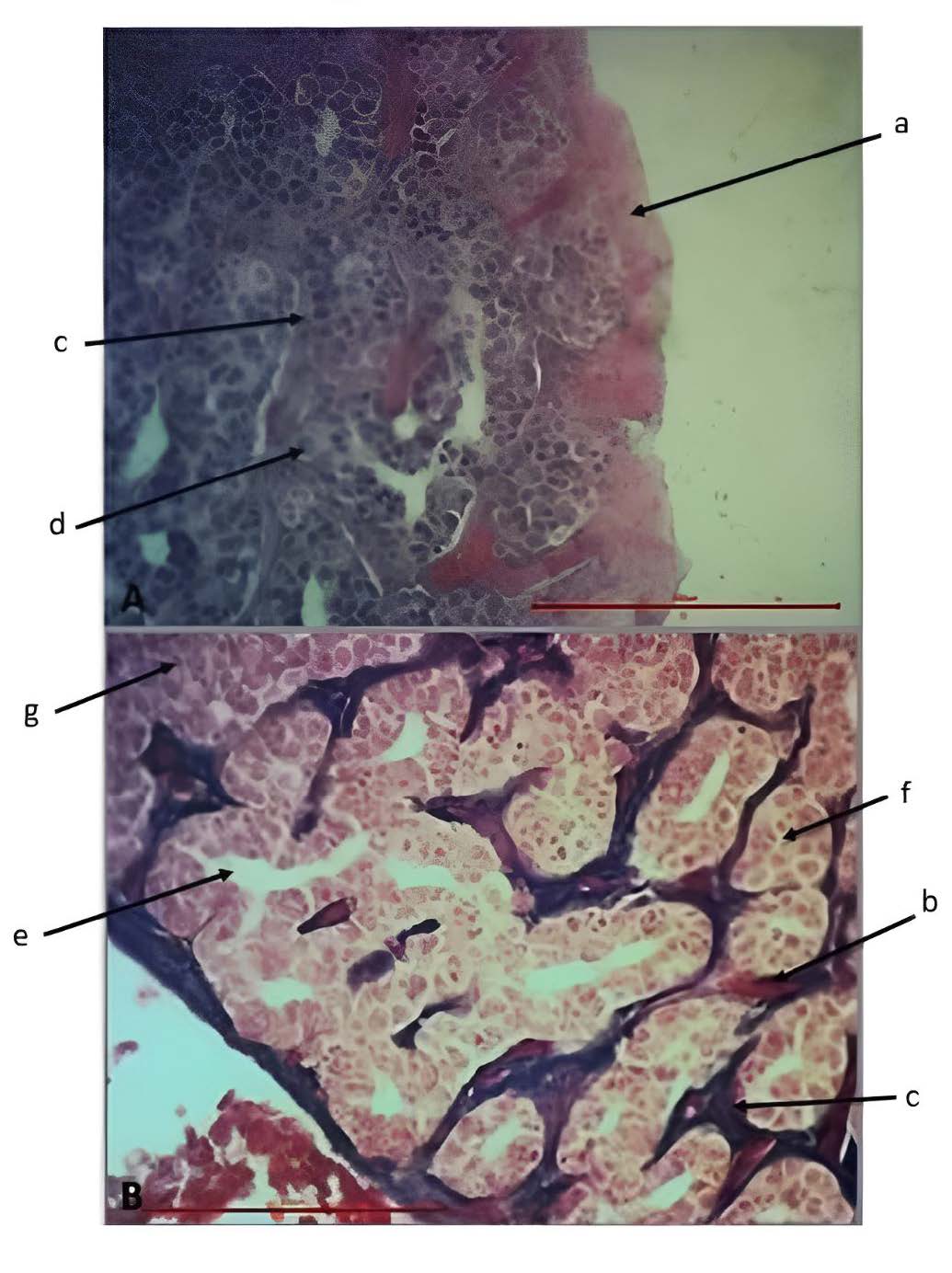 Figure 5. Histology of male A. bicolor bicolor gonads with (A) Hematoxylin-eosin (HE) and (B) Mallory Acid Fuchsin (MAF) staining (400x magnification; 100µm scale). a= dense connective tissue (capsule), b = blood vessels or smooth muscle, c = collagen connective tissue, d = Sertoli cells, e = lumen of seminiferous tubules, f = seminiferous tubules, g = Leydig cells.
REFERENCES
Adachi, S., Ijiri, S., Kazeto, Y., and Yamauchi, K. 2003. Oogenesis in the Japanese eel, Anguilla japonica. p. 301-331. In: Aida, K., Tsukamoto, K., Yamauchi, K. [eds.], Eel Biology. Springer, Tokyo.
Aprahamian, M.W., Evans, D.W., Briand, C., Walker, A.M., McElarney, Y., and Allen, M. 2021. The changing times of Europe's largest remaining commercially harvested population of eel Anguilla anguilla L. Journal of Fish Biology. 99: 1201–1221.
Arai, T., and Abdul Kadir, S.R. 2017. Opportunistic spawning of tropical anguillid eels Anguilla bicolor bicolor and A. bengalensis bengalensis. Scientific Reports. 7: 1-17.
Arai, T., Abdul Kadir, S.R., and Chino, N. 2016. Year-round spawning by a tropical catadromous eel Anguilla bicolor bicolor. Marine Biology. 163: 1-7.
Bancroft, J.D., Cook, H.C., and Stirling, R.W. 1994. Manual of histological techniques and their diagnostic application, in: Manual of histological techniques and their diagnostic application. 457– 457.
Briones, A.A., Yambot, A.V., Shiao, J-C., Iizuka, Y., and Tzeng, W-N. 2007. Migratory pattern and habitat use of tropical eels Anguilla spp. (Teleostei: Anguilliformes: Anguillidae) in the Philippines, as revealed by otolith microchemistry. The Raffles Bulletin of Zoology. 14: 141-149.
Colombo, G., Grandi, G., and Rossi, R. 1984. Gonad differentiation and body growth in Anguilla anguilla L. Journal of Fish Biology. 24: 215–228.
Colombo, G., and Grandidr, G. 1996. Histological study of the development and sex differentiation of the gonad in the European eel. Journal of Fish Biology. 48: 493–512.
Durif, C., Dufour, S., and Elie, P. 2006. Impact of silvering stage, age, body size and condition on reproductive potential of the European eel. Marine Ecology Progress Series. 327: 171–181.
Geffroy, B., and Bardonnet, A. 2016. Sex differentiation and sex determination in eels: consequences for management. Fish and Fisheries. 17: 375–398.
Gong, X., Wang, D., Bao, B., Zhang, Q., Jiang, X., and Liu, L. 2017. Gonadal development and silvering of the Japanese Eel (Anguilla japonica) in the Yangtze River during downstream migration. Aquaculture and Fisheries. 2: 173–178.
Han, Y-S., Liao, I-C., Huang, Y-S., He, J-T., Chang, C-W., and Tzeng, W-N. 2003. Synchronous changes of morphology and gonadal development of silvering Japanese eel Anguilla japonica. Aquaculture. 219: 783–796.
Ijiri, S., Tsukamoto, K., Chow, S., Kurogi, H., Adachi, S., and Tanaka, H. 2011. Controlled reproduction in the Japanese eel (Anguilla japonica), past and present. Aquaculture Europe. 36: 13–17.
Jacoby, D.M.P., Harrison, I.J., and Gollock, M.J. 2014. Anguilla bicolor. In: Anguilla bicolor. The IUCN red list of threatened species 2014: e. T166894A6701570.
Jellyman, D.J. 2022. An enigma: How can freshwater eels (Anguilla spp.) be such a successful genus yet be universally threatened? Reviews in Fish Biology and Fisheries. 32: 701–718.
Lokman, P.M., Vermeulen, G.J., Lambert, J.G.D., and Young, G. 1998. Gonad histology and plasma steroid profiles in wild New Zealand freshwater eels (Anguilla dieffenbachii and A. australis) before and at the onset of the natural spawning migration. I. Females. Fish Physiology and Biochemistry. 19: 325–338.
Lokman, P.M., Wylie, M.J., Downes, M., Di Biase, A., and Damsteegt, E.L. 2015. Artificial induction of maturation in female silver eels, Anguilla australis: The benefits of androgen pre-treatment. Aquaculture. 437: 111–119.
Matsui, I. 1957. On the record of a leptocephalus and catadromous eels of Anguilla japonica in the waters around Japan with a presumption of their spawning places. Journal of Shimonoseki College of Fisheries. 7: 151–167.
Melia, P., Bevacqua, D., Crivelli, A.J., De Leo, G.A., Panfili, J., and Gatto, M. 2006. Age and growth of Anguilla anguilla in the Camargue lagoons. Journal of Fish Biology. 68: 876–890.
Palstra, A., Curiel, D., Fekkes, M., de Bakker, M., Székely, C., van Ginneken, V., and van den Thillart, G. 2007. Swimming stimulates oocyte development in European eel. Aquaculture. 270: 321–332.
Palstra, A.P., Cohen, E.G.H., Niemantsverdriet, P.R.W., van Ginneken, V.J.T., and van den Thillart, G.E.E.J.M. 2005. Artificial maturation and reproduction of European silver eel: Development of oocytes during final maturation. Aquaculture. 249: 533–547.
Palstra, A.P., Guerrero, M.A., de Laak, G., Klein Breteler, J.P.G., and van den Thillart, G.E.E.J.M. 2011. Temporal progression in migratory status and sexual maturation in European silver eels during downstream migration. Fish Physiology and Biochemistry. 37: 285–296.
Pike, C., Crook, V., Jacoby, D. and Gollock, M. 2020. Anguilla bicolor (amended version of 2019 assessment). The IUCN Red List of Threatened Species 2020: e.T166894A176494582.
Piper, A., Belen, A., Villanueva, B., and Gollock, M. 2022. Residence, activity patterns and behaviour of the giant mottled eel Anguilla marmorata in two freshwater protected areas in the Philippines. Aquatic Conservation: Marine and Freshwater Ecosystem. 32: 1606-1617.
Podda, C., Palmas, F., Frau, G., Chessa, G., Culurgioni, J., Diciotti, R., Fois, N., and Sabatini, A. 2020. Environmental influences on the recruitment dynamics of juvenile European eels, Anguilla anguilla, in a small estuary of the Tyrrhenian Sea, Sardinia, Italy. Aquatic Conservation: Marine and Freshwater Ecosystems. 30: 1638–1648.
Prasetyo, A. 2017. Histological studies and Gonadosomatic Index of gonadal development of eel (Anguilla bicolor bicolor McClelland, 1844). Thesis. Faculty of Biology, Universitas Gadjah Mada, Yogyakarta, Indonesia.
Pratiwi, H., Damar, A., and Sulistiono, S. 2018. Phytoplankton community structure in the estuary of Donan River, Cilacap, Central Java, Indonesia. Biodiversitas Journal of Biological Diversity. 19: 2104-2110.
Rahmadya, A., Ridwansyah, I., Daruati, D., Rahmat, A., Triyanto, T., Dewi, A.P., and Wildan, D.M. 2022. A systematic literature review of the methodology preference for analyzing eel (Anguilla spp.) habitat. Chiang Mai University Journal of Natural Sciences. 21:1-11.
Robinet, T., and Feunteun, E. 2002. First observations of shortfinned Anguilla bicolor bicolor and longfinned Anguilla marmorata silver eels in the Réunion Island. Bulletin Français de la Pêche et de la Pisciculture. 364: 87-95.
Robinet, T., Sbaihi, M., Guyet, S., Mounaix, B., Dufour, S., and Feunteun, E. 2003. Advanced sexual maturation before marine migration of Anguilla bicolor bicolor and Anguilla marmorata at Réunion Island: Sexual maturation of Anguilla. Journal of Fish Biology. 63: 538–542.
Sugeha, H.Y., Suharti, S.R., Wouthuyzen, S., and Sumadhiharga, K. 2008. Biodiversity, distribution, and abundance of the tropical Anguillid eels in the Indonesian waters. Marine Research in Indonesia. 33: 129–137.
Suryati, N. K., Pamungkas, Y. P., and Muthmainnah, D. 2019. Addressing the issues and concerns on Anguillid eel fisheries in Southeast Asia. Fish for the People. 17: 19-24.
Tesch, F-W. 2003. The Eel, 3rd edn. Ed. by J. E. Thorpe. Oxford: Blackwell Science.
Tricas, T. C., and Hiramoto, J. T. 1989. Sexual differentiation, gonad development, and spawning seasonality of the Hawaiian butterflyfish, Chaetodon multicinctus. Environmental Biology of Fishes. 25: 111-124.
Todd, P.R. 1981. Morphometric changes, gonad histology, and fecundity estimates in migrating New Zealand freshwater eels (Anguilla spp.). New Zealand Journal of Marine and Freshwater Research. 15: 155–170.
Tongnunui, P., Yoknoi, N., Pechnoi, P., Yamada, H., and Kon, K. 2016. The first record of female maturation of the short-finned eel, Anguilla bicolor bicolor, in the coastal waters of Thailand. Tropical Life Sciences Research. 27: 145–152.
Walsh, C.T., Pease, B.C., and Booth, D.J. 2003. Sexual dimorphism and gonadal development of the Australian longfinned river eel: Gonadal development in Australian river eel. Journal of Fish Biology. 63: 137–152.
Wenner, C.A., and Musick, J.A. 1974. Fecundity and gonad observations of the American eel, Anguilla rostrata, migrating from Chesapeake Bay, Virginia. Journal of the Fisheries Research Board of Canada. 31: 1387–1391.
Yamamoto, K., and Yamauchi, K. 1974. Sexual maturation of Japanese eel and production of eel larvae in the aquarium. Nature. 251:220–222.
OPEN access freely available online
Natural and Life Sciences Communications
Chiang Mai University, Thailand. https://cmuj.cmu.ac.th